LET'S DEMYSTIFY THOSE LENGTHY LISTS OF FOOD INGREDIENTS
Do you often read the ingredient list of a food only to be quite perplexed? Do you wonder what on earth lecithin, glycerin, and guar gum are and what they are used for? Well let's clarify.
All these unknown ingredients are present in numerous prepackaged foods. They are food additives.
What is a food additive?
A food additive is a chemical substance that is added to enhance appearance, modify texture, or help in preserving foods.
What food additives are used?
More than 850 food additives are authorized in Canada. The following table summarizes a few of them.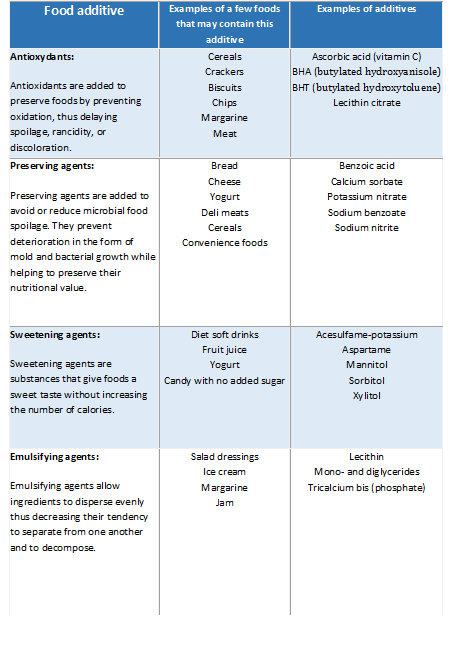 If you would like to know more about food additives, check out the Food additives permitted for use list at: http://www.hc-sc.gc.ca/fn-an/securit/addit/diction/dict_food-alim_add-eng.php
Are food additives safe for our health?
All the food additives used in Canada have been analyzed and approved by Health Canada. They are considered safe. A question remains though: what affect will these additives have in the long-term? Good question!
Some additives can improve the nutritional value of a food. Vitamins and minerals are two examples. (The following table does not feature an exhaustive list.)

Warning!
The results of many scientific studies1 are contradictory. Some have even given rise to warnings against food additives like acesulfame-K (acesulfame-potassium), aspartame, nitrite and sodium nitrate, sulfites, partially hydrogenated vegetable oils, propyl gallate, and BHA. These additives would seem to increase the risk for certain types of cancer or heart disease. Furthermore, some artificial coloring agents could even cause attention deficit hyperactivity disorder (ADHD), but the research presents many shortcomings.
Other terms used for added sugar, fat or salt (non exhaustive):
How do you reduce intake?
Choose foods that are whole, fresh, and unprocessed
Read the list of ingredients thoroughly and choose those foods that contain a short list of ingredients you recognize
Organic foods rarely contain additives, meaning there's no reason not to choose them, budget permitting.
So, are you thinking about reducing your intake of food additives?
By Karine Seguin, nutritionist
References:
[1] Center for Science in the Public Interest, 2008. Which Food Additives Are Safe? Which Aren't? En ligne < https://cspinet.org/new/200804291.html>.
Eat Right Ontario.2014. What you need to know about preservatives. Online  < http://www.eatrightontario.ca/en/Articles/Food-technology/Biotechnology/Novel-foods/What-you-need-to-know-about-preservatives#.VCVwfst0yt8­