Mini-Challenge #4: Park as far as possible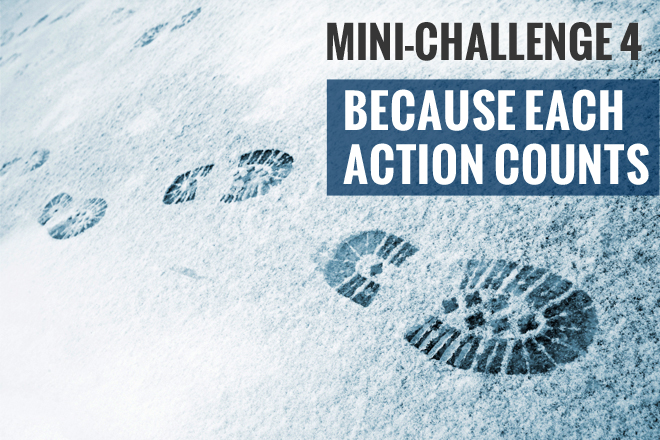 Because Each Action Counts
If you haven't left the province of Quebec lately, you probably know about the heavy cold spell that chilled our enthusiasm for outdoor activities. The good news is that winter is coming to an end (I am of the positive type), and although I am no meteorologist, I expect the next few weeks will get warmer (as it could not be any colder than it's been…)!
This is why I am suggesting this training challenge:
Challenge #4: Until the next challenge, regardless of your destination (except at home), park as far as possible. Also, see if you notice other changes regarding how you deal with stress, or other aspects of your daily life.
As a reflex, we always want to "save" time. A specific example of this is always trying to find the perfect parking spot. However, if you are reading this article, chances are that you are looking for ways to become more active. This is a very simple way of doing so.
It is easy to say that from now on, we will walk 30 minutes every evening. However, in real life, doing so is not always easy. For someone who wants to take charge, having a specific destination will greatly improve motivation. For example, if you are walking at 4 km/h, you could try parking 500 meters away from your destination. Covering the distance twice will already increase your total walking time for the day by 15 minutes.
Depending on your daily whereabouts, this technique will help you significantly increase your daily walking time. You may also realize that you don't always need your car. For example, if you intend to go to a convenience store within a 2 km radius, and considering the fact that we rarely want to go there for healthy reasons, forcing yourself to walk could be a very good way to have time to think about how unwise this purchase would be, or simply to add about 40 minutes of physical activity.
You have other tips to walk more? Share them with us through the comments section.
Until next time, for the next challenge!
By Xavier Jutras