How to Avoid Weight Gain During Holidays?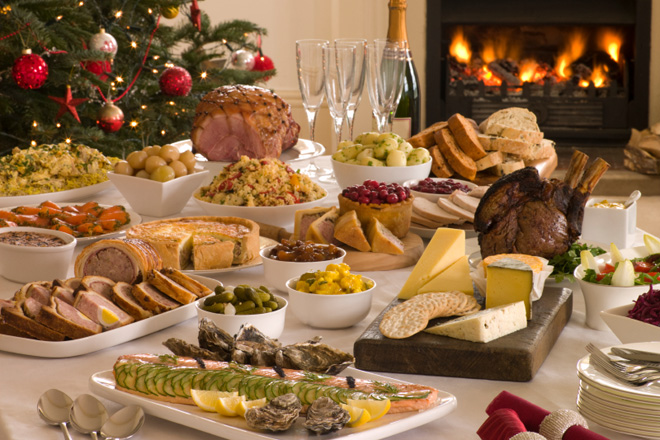 Have you ever thought: "I've eaten too much! My stomach hurts and I feel bloated." Isn't it the same scenario each year? Even I find myself nibbling the desserts platter even though I am not really hungry anymore! It's as if the holidays not only allow us to eat more than we need to, but even encourage us to do so!
So, should we abstain? No, I don't think that forbidding certain foods is the best avenue. Hello frustration! Just as I don't believe that feeling guilty for eating too much does any good. We should rather avoid this feeling of being too full, because it inevitably leads to an excess of calories. Let's learn from our mistakes. Here are some tips for reducing your caloric excesses!
1. Forget the "all or nothing" philosophy. Because you can eat a little doesn't mean you should eat a ton. By allowing yourself one or two treats, you will be contented without feeling bloated.
2. Take your time! Savour every bite. Use that time to chat and listen. You will be more likely to eat less. Do the same for alcohol.
3. Keep as many good habits as you can during the holidays… eat reasonable quantities of healthy food at breakfast and at lunch, and take a walk or work out in the afternoon. That way, the cheating you do on festive nights will be less "destructive".
4. Move, move, move! If you know you are going to eat more than you need to at night, try to burn the excess calories by exercising. Dancing is an excellent way, and as an indication, a good 45 to 60 minutes of walking can burn 200 to 250 calories… the equivalent of about two glasses of wine!
Remember that gaining one or two pounds during the holidays is not that damaging… but adding them up year after year is less forgiving! So, during the holidays, eat smart, treat yourself with moderation, and move every day to feel more energetic! Celebrate while keeping in mind that you will return to good habits in January… right?!?
Happy holidays, and see you on December 27th!
By Karine Larose