Healthy Cooking Takes Time!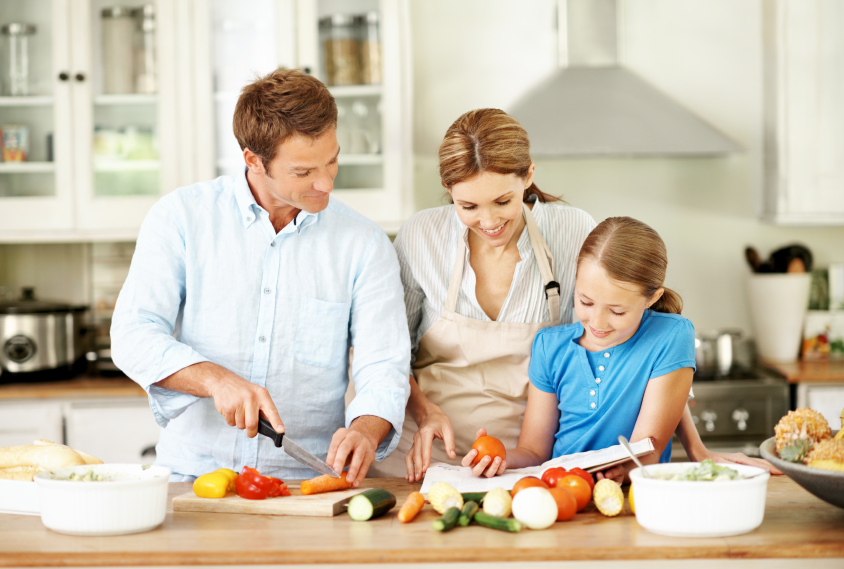 Are you part of those who wish to change their eating habits in order to eat healthier? You think healthy cooking takes more time? Well, don't be fooled!
To make your life easier, you should always have some essentials handy. Then, all you will have to do is combine these foods to create healthy and balanced meals!
Starches:
Make sure that your pantry always contains reserves of multigrain or whole-wheat pasta, quinoa, whole-grain rice, whole-grain crackers (such as Melba 12 grains or Ryvita), couscous, etc. Moreover, nothing keeps you from preparing ahead a few servings of pasta or quinoa for the week, for example on Sunday night while preparing your supper.
Vegetables:
If you are under the impression that preparing vegetables is the most time-consuming part, you should know that frozen vegetables are an excellent option. By the way, you should always have one or two bags of frozen mixed vegetables for these nights when time is short! In your fridge, keep prewashed mixed lettuce, tomatoes, cucumbers, and two or three other kinds of vegetables that you should change every week.
Meat and alternatives:
Always keep a few canned goods in your pantry: chickpeas, lentils, salmon, white tuna, smoked oysters, etc. In the fridge, eggs, partly-skimmed cheese, and tofu can be kept for a long time, and they will always come handy on nights when time is short (for example, omelets, frittata, or sautés). In the freezer, keep shrimps, fish, meat, and poultry. That way, even if you do not have enough time to go for groceries, you will have everything you need at hand.
Here are a few examples of delicious and almost instant meals:
Salmon wrap: tortilla, cooked salmon leftovers (or canned salmon), Dijon mustard, baby spinachs, avocado slices (serve with raw vegetables).
Frittata : eggs, pasta leftovers, grated zucchinis and carrots, tomatoes.
Pastas, pesto, chicken, broccoli, cauliflower, zucchinis, and mushrooms.
Vegetable soup, Ryvita crackers, drained smoked oysters.
Homemade pizza: tortilla, tomato sauce, shrimps, broccoli, tomatoes, sweet peppers, mushrooms, partly-skimmed grated cheese.
Vegetables sauté: cubed firm tofu, broccoli, carrots, snow peas, sweet peppers, mushrooms, low sodium vegetable broth, low sodium teriyaki sauce (serve on a bed of whole-grain rice).
Bon appétit!
By Marilyne Petitclerc