Happy Hour, Terraces & Co.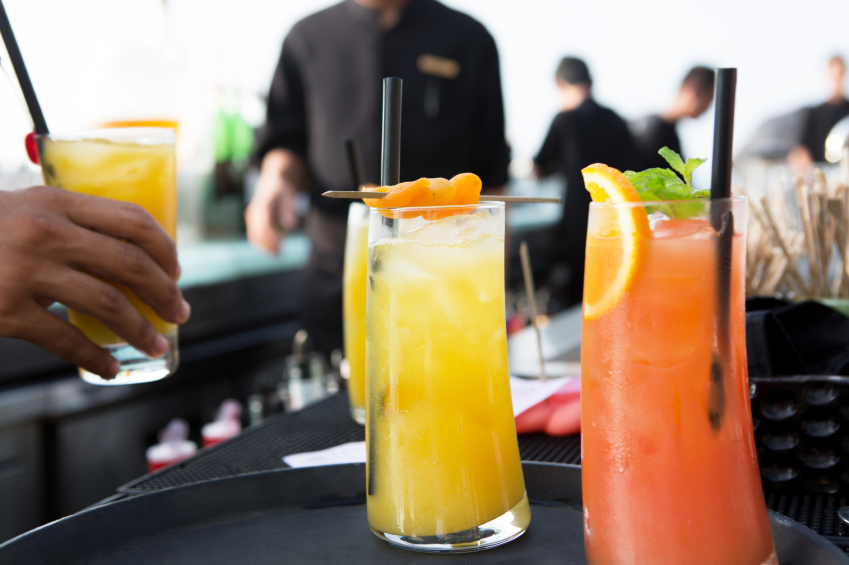 Summer: the best season for cocktails! One, two, three… and behold, the calorie count is skyrocketing! Is there a way to both celebrate and keep your figure at the same time? In this article, I will address the issue and give you my recommendations regarding the best and worst choices when ordering.
First, remember that in equal amounts, alcohol contains almost twice as much calories than carbohydrates and protein.
Grams                       Calories
1 g carbs                     4 kcal
1 g protein                 4 kcal
1 g alcohol                 7 kcal
1 g fat                           9 kcal
Alcohol contains almost as many calories as lipids (fats). Keep this in mind when you are invited to a happy hour!
Some cocktails can contain up to 90 grams of sugar in a single 10 oz. glass, which corresponds to 18 teaspoons. Enough to think twice before ordering a second drink!
Here's how it works in reality:

Cocktails with the highest energy content provide about 40% of your daily caloric intake (if you are eating 2000 calories a day). Three glasses already put you over the line for the day, and we didn't even count appetizers yet (pop-corn, nachos, or other).
Favour cocktails prepared with carbonated water or soda to those made with syrup, liquor, or cream. Choose smaller servings when available, and limit your overall consumption to 2 or 3 glasses. You can also opt for a glass of wine or beer, with only 100 and 140 calories, respectively. Finally, remember that it's important to stay well-hydrated. You should always have a glass of water handy.
If you want more information on the calories contained in various types of alcohol, you can consult the section "Beware of calories" in the article "A Few Ideas for Avoiding Vacation Weight Gain."
Do you have a new perspective on cocktails now?
By Valérie Noël, P.Dt. Nutritionist
Reference
Espace cocktail. 2012. Cocktails et calories. Online. <https://www.espacecocktail.com/blogue/?p=874>. Page viewed on July 23, 2014.