Guillaume Leduc's Transformation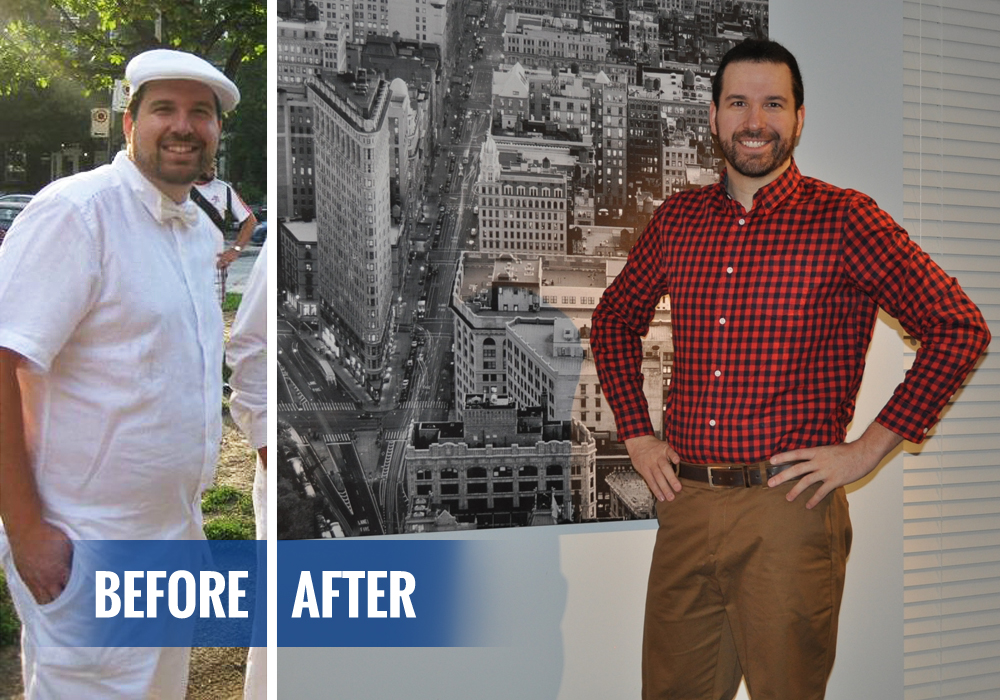 My story begins a few years ago, when I first got into the labour market after completing my studies. At this moment, the frantic rhythm of life slowly swallowed me in a swirl of bad habits. I skipped meals often, worked long hours, had little physical activity, etc. And the more weight I put on, the less active I was able to be. I was caught in a vicious circle.
But last summer, I signed up for the I'm Taking Charge challenge, as the Transform program was the only thing I had not tried yet! And it was the first day of my new life.
But I was going to earn this new life through sweat! My trainer chose a game plan that would suit my personality. By combining sports activities to training in the gym, I gradually eliminated the extra pounds. I insist on gradually, because it was important to me. What allowed me to keep my motivation was to integrate physical activity to my lifestyle, and most of all, to get results*!
With my nutritionist, we established new basic rules in order to feed my body properly. Because losing weight does not necessarily mean diet, quite the opposite! I have never eaten as much as I have since the beginning of the challenge, but my choices are healthy and balanced.
Taking charge of myself was still the biggest challenge I have faced to this day. To succeed, I had to accept that there was a problem. The help I received allowed me to face this. I learned to say yes to myself. To make myself the priority through all the choices I make every day.
My next challenge will be to maintain my new lifestyle, and I am confident I will succeed!
Guillaume Leduc
---
Every week, we present a transformation of the I'm Taking Charge Challenge 3 finalist. We invite you to vote for your 2 favorite among the 12 physical transformations of the I'm Taking Charge Challenge 3 finalists. You must choose what you think is the best male and female transformations.
Go to www.nautilusplus.com/contest  to view the videos of all the finalists! By simply casting your vote, you are automatically registered for a chance to win a trip for two valued at $ 2,500 courtesy Voyages Gendron!
You have until noon on February 28, 2014 to vote!
Good luck!
*Disclaimer: Please note that the results can vary from a person to another. Nautilus Plus is not responsible of the validity of the statements in this testimonial.