Pilates 2 Classes
Pilates 2 proposes a more sustained effort through series of movements that focus on improving muscular endurance and flexibility. Some exercise accessories are used on an occasional basis to slightly increase the level of intensity and difficulty of movements. This class is intended for members who are already familiar with the fundamentals of pilates as well as the training cues used by the class instructor.
Opt for virtual group classes with Karine Larose's DVDs.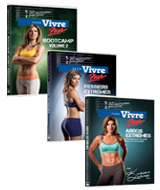 Choose from our wide selection of varied workout DVDs from the ''30 minutes par jour pour vivre plus'' collection! Alone or in a group, when the room is available, go to the front desk to register.
*Please note that the DVDs are available in French only.
GROUP CLASSES