Parent Baby Classes
Improves mom's physical fitness while having fun with baby. Circuit training that targets the abdominal and core area focusing on reducing the gap between the two sections of the abdominal muscle that occurs after childbirth. Class also includes other exercises that target upper and lower body, so dad is welcome to join in.
Opt for virtual group classes with Karine Larose's DVDs.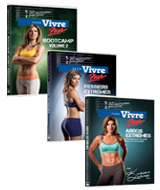 Choose from our wide selection of varied workout DVDs from the ''30 minutes par jour pour vivre plus'' collection! Alone or in a group, when the room is available, go to the front desk to register.
*Please note that the DVDs are available in French only.
GROUP CLASSES