Get involved in the I'm Taking Charge mini-challenges!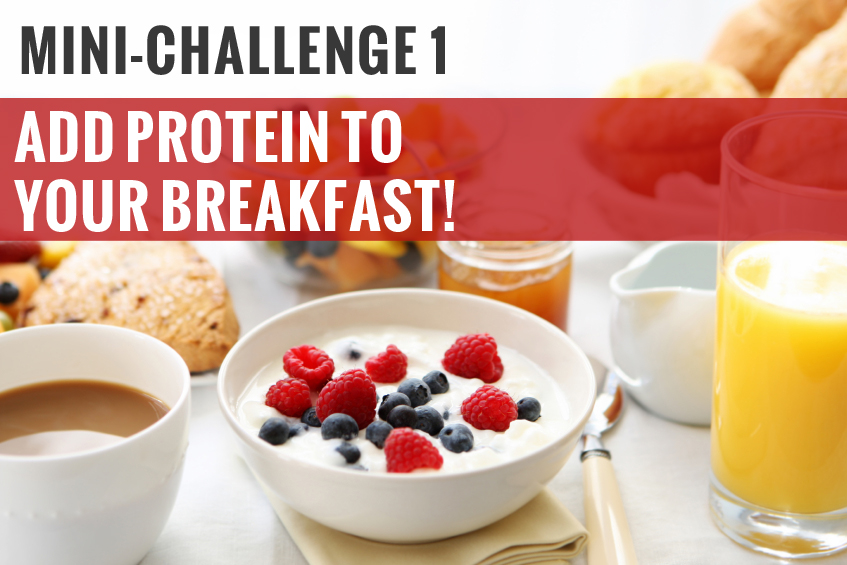 Dear readers, in order to make the "path" to springtime more exciting, we would like to give you a few challenges! For the next 10 weeks, we will suggest you various weekly challenges to help you have a healthier lifestyle! Each week, you will have to integrate a new habit regarding either nutrition or exercise. These challenges will be cumulative and will allow you, at the end of this 10 weeks period, to observe a definite improvement in your physical condition and general health condition.
Because adopting these new habits can sometimes be difficult, we will slowly guide you toward simple changes that will make a long-term difference! We invite you to share your experience on our Facebook page by explaining to us how you succeeded in the weekly challenge!
Are you ready to take charge of yourself, one week at a time?
Here is the first mini-challenge! Add protein to your breakfast!
Have you ever been hungry only 1 to 2 hours after breakfast, right in the middle of a business meeting, while buying groceries, or even worst, during a workout?
Although unpleasant, this feeling is more importantly a sign that your first meal of the day does not sustain you as much as it should, and could be detrimental to you in different ways:
By encouraging overeating on your next meals;
By having a negative influence on your food choices throughout the day (hello sweet or salty cravings!);
Also, you might have a hard time meeting your protein requirement during the day, as well as getting enough of certain vitamins and minerals if your breakfast is lacking in these nutrients.
So your first challenge will consist of adopting satisfying breakfasts by including at least 20 g of proteins.
Proteins, needing more time to digest, will help prevent hunger in the 3 hours following your first meal of the day.
In order to help you meet this challenge, here are a few of my favourite protein-rich items (with about 20 g of proteins per serving) to try:
It's your turn now! How do you integrate proteins in your breakfast?
By Alina Petre, P.Dt.