Frédérick Guérin's Transformation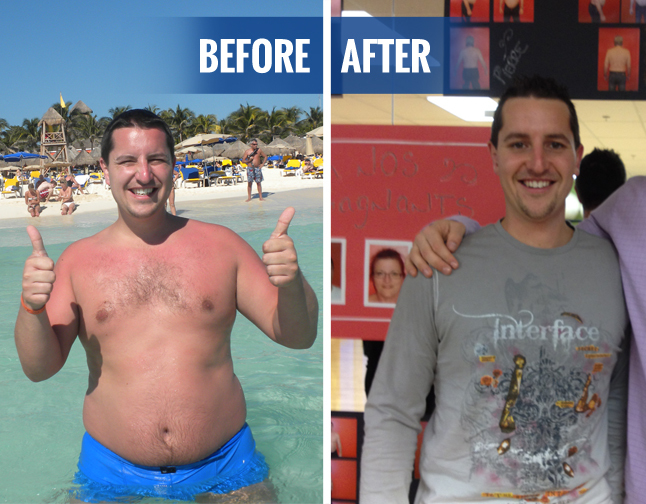 Frédérick Guérin, 31
Beginning: 200 pounds / End: 163 pounds / Weight loss: 37 pounds*
Personal trainer: Jean-Philippe Varin
Nutritionnist: Vanessa Perrone
Club: St-Eustache
At first, I didn't believe it could be done: losing 30 pounds in 90 days is a very quick transformation. The constancy of the effort I put in coupled with my desire to exceed my weight loss goal pushed me all the way to the end. After 30 days, I could already see a big difference. I was less tired, had more energy, smiled more, and on top of this, I had already lost 12 pounds. Nothing could resist me: working nights as a male nurse in an emergency department, the preparation of my wedding, my 1 year old daughter, my cancer remission, and the house renovations.
The nutrition aspect required a lot of adaptation. I noticed that I got results by eating a higher number of healthy meals. I felt like working out. After 75 days, I reached my goal. At the end of the Transform program, on the day of the photo shoot, I had lost a total of 32 pounds. Of course, I developed an interest in exercising and decided to extend the experiment with my personal trainer for a new challenge.
I recommend this program to everyone! If to you, such a challenge represents a huge mountain to overcome, then you are perfect for this program. Nautilus Plus will change your life as it changed mine. I did it for myself and my family, and I am very proud of it.
The Nautilus Plus vitamin: everyone wants some of it!
1. Why did you want to do a transformation?
To get in shape and feel good about myself.
2. What was the hardest part of this transformation?
The hardest part was reconciling work, family, and exercise.
3. What motivated you the most?
My family and my weight loss results during the first two weeks of the program.
4. What did this transformation give you?
I am in good physical shape, I have a lot more energy, and much better concentration at work.
5. What difference did your personal trainer and nutritionist make?
My personal trainer, who is always attentive to my needs, encourages me a lot and has a good sense of humor. My nutritionist smiles a lot, listens to me, and gives me great advice using concrete examples. Both have been really helpful. In everyday life, I had to concentrate on both nutrition and exercise. The two have to work together, because without one or the other, I wouldn't have gotten such results.
6. And how do you feel today? What is planned next?
I am now in good physical shape, and of course I feel less tired than before. My health is good, and my blood pressure, which used to be in the higher range, is now back to normal. My 2008 cancer did not come back, and my blood test results are perfect! I exercise at least 3 times a week at Nautilus Plus. I play with my 1 year old daughter, and we run and take long walks together. I also find ways to keep active around the house: landscaping is one of my passions, and I always have some renovation projects to do by myself. Before, I used to postpone all of my work, cleaning up, and organizing, but now I am diligent.
*Disclaimer: Please note that the results can vary from a person to another. Nautilus Plus is not responsible of the validity of the statements in this testimonial.