Finding the time to work out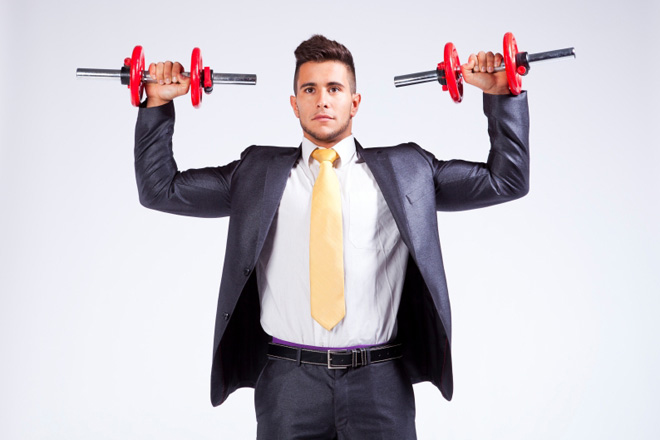 Be honest, on your list of priorities, where does exercise fall? Is it even on your list? Some of you don't exercise because you think you don't have time. You're waiting for your schedules to ease up, for the weather to cool off or heat up, for school to end or start, or some other future event. The truth is, there's never a right time to get moving…it's now or never.
Here are some pointers on how to make exercise, and a healthier, happier lifestyle, a reality.
1- Lunch time! When we work full time, our lunch breaks can be the ideal time for some exercise. Go for a brisk walk, a run or even a quick workout at the gym (if it's not too far).
2- Partner up! Go to the gym with a partner before or after work. The key, of course, is with a partner. When someone else is relying on you to get there, you are more likely to go. You have children? Share the « shifts » of parental responsibilities : and you can both enjoy « your » time at the gym.
3- Set the alarm clock to ring earlier! Even with our busy schedules, we can still find the time : we just need to be creative. A great way is to wake up 30 to 60 minutes earlier. You'll find that morning exercise can give you an early energy boost than can last all day.
4- Get a workout DVD!: Whether it's aerobics, kickboxing or anything else you choose, all you need to do is lace up those running shoes, turn the TV on and push PLAY. Whether the kids are awake or asleep, a quick workout in the comfort of your own home can be a great alternative to a trip to the gym.
5- Make it a social thing! Invite your friends to try a new workout class instead of hitting happy hour before dinner. Working out in a group can be both stimulating and enjoyable and…you'll feel less guilty after dinner.
6- Each new day has much to offer! Since every little bit helps, make your every movement a part of your exercise routine : do squats while brushing your teeth, park your car at the far end of the lot and walk that extra distance, use the stairs instead of the elevator or the escalator, walk to your colleague's office instead of using the telephone or the computer to communicate with them, do lunges during your coffee breaks, etc.
7- The help of a personal trainer! Working with a personal trainer is often the key to achieving fitness goals. It's that professional's job to make sure you receive timely encouragement, instruction, and motivation to keep you on track.
8- Make it a family affair! Before or after dinner, take a walk or go cycling for 20 to 30 minutes. Plan time for physical activities on weekends. Making family activities and fitness part of your child's life can go a long way toward helping them form healthy habits for life.
9- A gym membership! A well-tempered environment, a wide selection of equipment, health professionals to assist and guide you, access to a variety of services such as : group exercise classes, nutritionists, personal trainers, etc., are all factors that encourage and promote regular physical activity.
10- Actively watching television! Why not sneak exercise into your schedule while watching television? Get up! Do some crunches, squats, lunges, grab your elastic exercise band, skip rope, etc. Whether it's a quick bout of cardio or a few simple strength-building exercises, anything you can do to get your body moving will raise your heart rate. This is a good thing!
There are countless ways to make exercise part of your daily life. Your lifestyle, your career, your family obligations, etc., are all factors that will determine when and where you'll be exercising. Choose what's best for you and make an active lifestyle part of your life!
By Karine Larose