Eat well to live well
Every single day, whether aware of it or not, we make choices that affect our health for better or worse. We choose what we eat, how much time we devote to exercise, and the attitude we adopt in various situations. Our ability to make the right choices is strongly influenced by our education and the milieu we live in.
I feel truly blessed in this respect, firstly because my parents raised me to lead a healthy lifestyle, and now because I'm working for an organization dedicated to promoting the well-being of the population, while preventing disease. I love my work; it provides me with an exceptional platform for making an active contribution to the well-being of the Quebec people by assisting them on their journey towards better health. Whenever possible, I try to motivate people to take charge of their health while being very aware that adopting healthier eating habits and working out regularly require hard work and discipline. The benefits are so rewarding though!
I have devoted many years of experience to guiding hundreds of people who struggle with serious problems of self-esteem. I've helped them make lifestyle changes and achieve exceptional physical transformations. This experience has taught me to rely on healthy solutions and the gradual withdrawal of poor habits. For sustainable benefits, the people then adhere to healthy lifestyle habits.
Whether the goal pursued is motivated by the need to improve health, fitness, or lose weight, the quality of the foods you eat is an integral part of success. The body requires energy to support life and perform daily activities, and when you exercise, you require even more energy to supply this new demand and allow for recovery. Thus, by receiving reasonable amounts of a variety of high quality foods, the body will function effectively and enjoy the best possible conditions for good health and disease control.
Contrary to popular belief, you most certainly can both eat well and derive enjoyment from savouring delectable dishes. Many companies are now striving to market foods that are just as delicious as they are nutritious.  Several of them will be represented at the upcoming Expo Manger Santé et Vivre Vert, one of the biggest health/flavour gatherings in Quebec, providing a true goldmine of healthy solutions. By attending the 17th edition of the Montréal event (March 21-23, 2014) or the 14th edition in Québec (March 29-30, 2014), you'll have access to a multitude of healthy ideas for yourself, your family, and the future. It is the ideal time to ask questions, attend workshops, lectures, and cooking demonstrations, take part in various activities, and get to know the latest trends!
I invite you to come and discover those products and services that will make it easier for you to adhere to a healthy lifestyle. Among my favourite exhibits at the 2014 Expo are:
Bio-K+

Firstly, I'm sure you've already heard of probiotics, those good bacteria that benefit our intestinal flora when taken in large enough amounts. Bio-K Plus products have proven to be effective on the market as well as scientifically. The associated benefits are felt in several areas including better digestion, stronger immune functioning, and greater countering of certain pathogenic agents. Being fresh and active upon entering the mouth, the liquid form is my first choice. When those around me have stomach flu or when I feel down immunity-wise, Bio-K Plus comes to the rescue and I soon feel the effects. What is more, taking capsules of this product before, during, and after a trip down South is a must for the whole family. Bye bye intestinal troubles!
Jus Anti+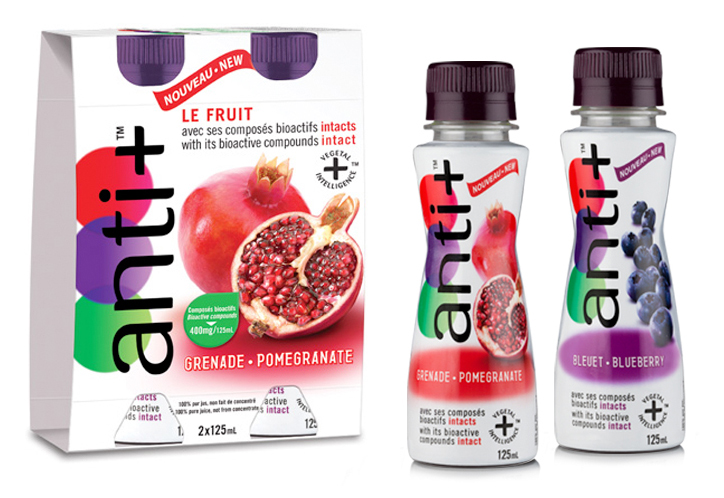 I must admit that I'm not usually drawn to fruit juices and rarely purchase them since they tend to contain too much sugar. Often made from concentrates, the bioactive substances present in the fruits are destroyed during processing. But, not long ago, I discovered Anti+ juices. Sceptical at first, I made inquiries and the uncompromising approach of this Quebec company to provide a drinkable fruit, pulp, skin, juice, and all, won me over. The Anti+ juices contain no added sugar, additives, concentrates, or preservatives, just the nutrients, vitamins, minerals, and fibres of the fruits. The cold pressed HPP process allows the bioactive substances to remain intact. Two fruits are available at the moment, blueberry and pomegranate. They are both delicious and absolutely packed with antioxidants! The antiflammatory activity of these fruits is of particular interest since it is totally in line with the recovery sought after a training session.
Aux Vivres Restaurant

This eating place is my next favourite! When filming video clips for the I'm Taking Charge 3 Challenge, I accross an exceptional little restaurant called Aux Vivres, a pretty small place with minimalist decor, packed with customers one frigid November lunch time. As I read the menu, I could hardly believe my eyes―all the dishes were vegan! That's not all though. Not only did they contain no animal products, but they were prepared with local foods, most of which were organic. To top it all, the food was absolutely delicious. What a joy to discover a restaurant that successfully unites the pleasure of eating and healthy, nutritious food. Congratulations Aux Vivres! I now go there quite often. The restaurant also sells an array of tasty, practical foods you can take away. You'll be able to try their delicacies and buy their products at the Expo.
Épiceries Rachelle-Béry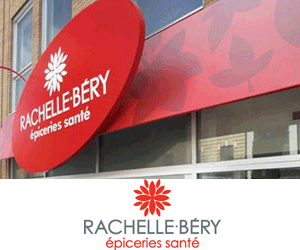 Do you share my liking of fine natural food stores? I have become a regular customer since I stopped eating gluten three years ago. I love wandering along the aisles and discovering new products. A good example of such a store is Rachelle-Béry where you'll find natural and organic groceries, gluten-free products, Ecoconcert Canada foods, fresh meat, fish from responsible fisheries, a variety of healthy loose products, and more. On my way up to the family cottage, I often stop at the new Rachelle-Béry store in St. Sauveur to stock up on healthy foods for the weekend.
Maison Orphée oils

And lastly, fifth on my list of favourites is Maison Orphée. Be it their olive oil for my home-made salad dressings or for cooking, or even their walnut oil for my tartares, I love their range of merchandise. Among the many items offered are their classic, organic, and gourmet oils, organic condiments as well as their flavour sprays that allow you to measure the right amounts. These sprays are particularly practical for those persons trying to lose weight or control their portions better.
Speaking of the Montréal expo, I'll be giving a lecture there on how to take control of your health and reach a healthy weight. It will take place on Sunday, March 23, at 12.45 p.m. at the Scène Bio-Écolo. At this time, I'll be providing motivation tips, clarifying why exercise is a must for achieving real results rapidly, and explaining how to adjust what you eat to lose weight healthily and keep it off in the long term. I'd also like to invite you to come and see me at the Nautilus Plus stand (704) where it will be a pleasure to chat with you. Not only will you be able to check out my latest exercise DVDs and recipe books featuring chapters on taking charge, you'll also be able to have a body composition analysis performed which will help you better determine your fitness goals. Nutritionists and kinesiologists will be at the stand too, so come and take advantage of the precious advice they'll tailor to your particular needs, if you so wish.
Wishing you good health and fitness!
By Karine Larose