Catherine Ménard's Transformation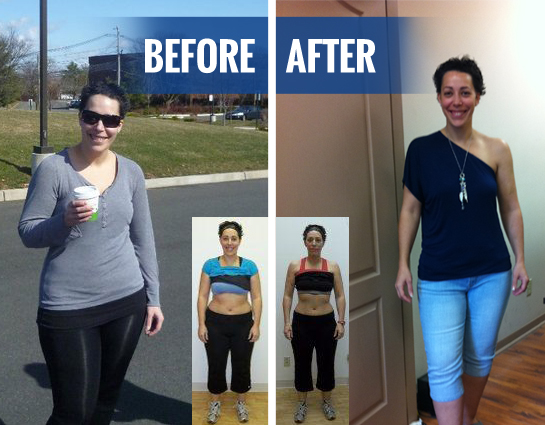 Catherine Ménard
Age : 32
Before : 201 lbs / After : 175 lbs / Weight loss : 26 lbs*
Here is the story of my incredible experience with the Nautilus Plus Transfom program!
Several months ago, discouraged by my appearance and my state of health, I decided to join the gym. Having been disappointed with several gym memberships in the past, I was quite reluctant to invest too quickly so I opted for a membership without supervision. Several weeks later, my husband saw a televised ad on the Nautilus Plus Transform program and he challenged me to try it! Being of competitive spririt, I inquired at the gym and, thanks to Vanessa's advice, the gym's Manager, I joined the program and the adventure began.
I was terrified of what my personal trainer would have to say at my first appointment…my weight, percentage of fat and my skinfolds. I was surprised at the speed and accuracy of the impedance test and how friendly and knowledgeable the personal trainers are.
Day after day, I gave it my all. I never doubted. The weight just melted and I was given words of encouragement and nice compliments. I worked hard and I followed my meal plan to the letter…I even discovered some culinary skills.
I can truly say that this program has changed my life. Yes, I reached my target weight but it's so much more than that! I have a healthy mind in a healthy body and I have plenty of projects and more than enough energy to see them through! And in the midst of it all, I even quit smoking. My motivation and my good mood are so contagious that my husband has decided to join the Transform program! I will be suggesting this program to everyone.
1. Why do you wish to transform your body?
I wanted to feel good about myself and to be healthy. Everything seemed like a struggle. I never seemed to have any energy!
2. What was the greatest challenge during your transformation?
The most difficult thing was setting up a realistic schedule that I could easily abide by! Once I did that, it was easier and less discouraging! Also, my nutritionist gave me some good tips which I gladly followed, like using the recipes in Karine Larose's book « 10-4 The Healthy Way to Lose 10 Pounds in 4 Weeks ».
3. What motivated you the most?
The thrill of the challenge, the sense of achievement and especially the results. Not only did the personal trainers encourage me at the gym, but the other members as well. It helped me to keep going and it made me smile even when it was difficult!
4. What has this transformation done for you?
It has changed my lifestyle! It has given me the taste for an active and healthier life. I have so many projects!
5. How did your personal trainer and nutritionist make a difference?
My personal trainer was simply marvelous and so pleasant! She kept me on my toes, and pushed me beyond my comfort zone. I even completed a 5 km run during my program…something I never thought I'd be able to do just 3 short months ago!
6. How are you today and what are your plans for the future?
I feel great! I ran my first 5 km and my next goal is a 10 km run! The weight loss continues and I plan to make a career change…I want to be a personal trainer!
Other comments?
This has been a great experience and I wish it for everyone. It is not always easy, but you will feel better and prouder when its done! It's a matter of attitude and willpower but you're surrounded by a supportive staff and after three short months, what a feeling to finally feel good about yourself.
*Disclaimer: Please note that the results can vary from a person to another. Nautilus Plus is not responsible of the validity of the statements in this testimonial.