Cancer prevention
"The majority of deaths from cancer could be prevented," say the co-authors of Prévenir le cancer, Richard Béliveau and Denis Gingras.
Only 25% of all cancers are caused by mutations occurring by chance alone, while75% of cancers are related to lifestyle. The implementation of 10 specific recommendations, the subject of extensive scientific research in recent years, has revealed remarkable results. By applying the findings of this research, the current trend can be turned around and concrete progress made in the fight against cancer.
Here is a summary of the 10 recommendations featured in the book entitled Prévenir le cancer.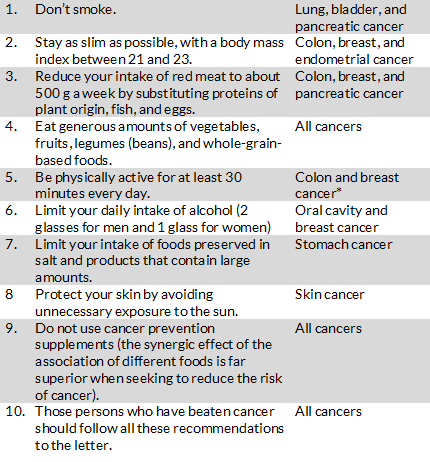 *As well as the benefits mentioned in the table, physical activity would also provide protection against uterine, lung, ovarian, and prostate cancers.
"Cancer likes calm"
An important effect of physical activity is, among other things, in the reduction of chronic inflammation in the body. Since inflammation can promote cancer progression, engaging in physical activity plays an important role in prevention. Recommendations stipulate that you should be active for at least 30 minutes a day. Research shows, however, that for maximum benefits this energy expenditure should be combined with a global change in lifestyle among those persons who devote a considerable amount of time to passive, sedentary activities. In other words, multiply the opportunities to get up, move, and be more physically active throughout the day (get up several times a day if you have a sedentary job, walk more, use the stairs, etc.) and engage in a proper exercise session three times a week. Avoid, as much as you can, remaining seated for lengthy periods.
Along with quitting smoking, adding physical activity is the change in lifestyle that provides the most health benefits, benefits like cancer prevention, but also the prevention of chronic disease in general.
By Karine Larose