Back pain and bad posture
Thanks to muscle coordination, our posture is constantly readjusted during our daily movements. Having a chronic bad posture can cause tensions or slackness in the tendons, muscles, and ligaments. In the long run, these muscular imbalances degenerate and cause pain, injuries, and musculoskeletal disorders.
Weak abs and hamstrings muscles mixed with a lack of flexibility in the lumbar and iliopsoas muscles is one of the most common muscular imbalances that can lead to serious back pain. To rectify this problem, it is important to strengthen the abs muscles and the back of the thigh, as well as improve the flexibility of the lumbar and hips muscles (see the exercises suggested below). Studies (1) have shown a significant reduction in lumbar pain and a great improvement in lumbar strength following strengthening exercises, and this after only four to ten weeks of exercise (2).
When they are performed correctly and well-balanced, muscular exercises greatly contribute to maintaining an adequate posture, in addition to reducing the occurrence of back problems. Strong muscles offer better support to bone structure, lowering the risks of deformation. Also, these exercises require us to have a good posture during their execution, which will eventually affect the way we move in our daily lives.
Of course, for people suffering from back pain, muscular exercises that aim to strengthen the core muscles should be adapted according to their individual physiological characteristics. However, the benefits of this kind of exercise are unquestionable and should be seriously considered in the prevention and treatment of back problems.
1- To improve abs strength
Plank: resting on your forearms and feet, hold the pose for as long as possible without lowering your pelvis.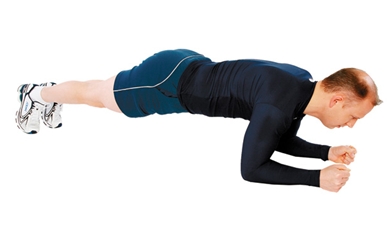 2- To improve hamstrings strength
Leg flexion: Put the exercise ball between your heels and the back of your thighs and apply pressure on it by flexing your knees. Hold the contraction for about 20 seconds.
3- To improve lumbar flexibility
Knees to chest: Laying on your back, grab your knees and pull them toward your chest until your feel a stretch in your lower back. Hold the position without moving for about 30 seconds.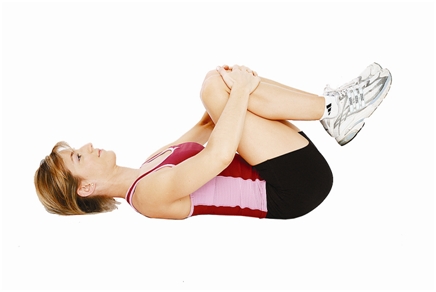 4- To improve iliopsoas flexibility
Forward lunge: In the lunge position, drive your hip forward in order to feel a stretch in the front part of your hip (iliopsoas muscle). You can let your knee on the floor to relax the other muscles of your body and feel the stretch even more.
By Karine Larose
References:
1. Rydeard R., A. Leger et D. Smith, « Pilates-Based Thera­peutic Exercise : Effect on Subjects with Nonspecific Chronic Low Back Pain and Functional Disability : a Randomized Controlled Trial », The Journal of Orthopaedic and Sports Physical Therapy, vol. 36, nº 7, 2006, p. 472-484.
2. * Risch S.V., N.K. Norvell, M.L. Pollock, E.D. Risch, H. Langer, M. Fulton, J.E. Graves et S.H. Leggett, « Lumbar Strengthening in Chronic Low Back Pain Patients : Physiologic and Psychological Benefits », Spine, vol. 18, nº 2, 1993, p. 232-238.
---
[A1]Il y avait une partie de texte manquante ici, apparemment.