My 8 Keys Foods for Summer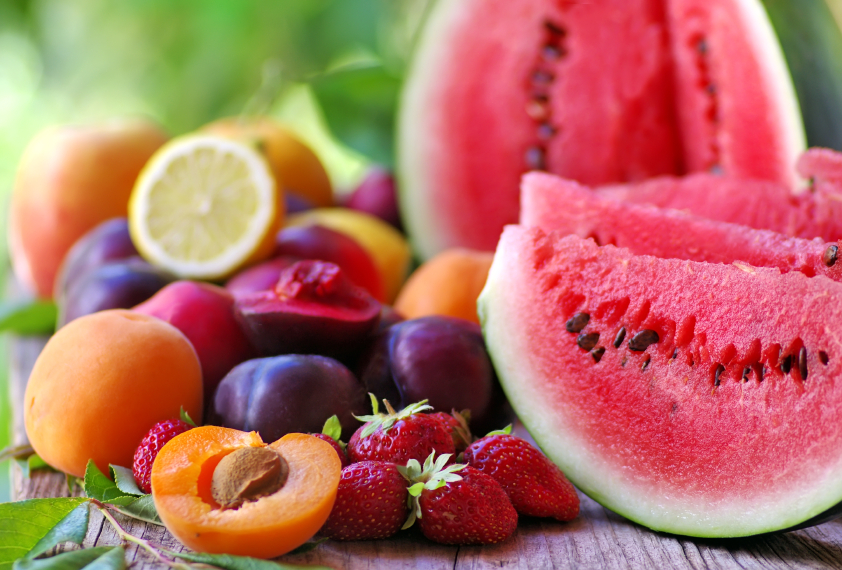 Hot weather is finally here, along with a high humidex! What do you prefer to eat with this kind of temperature? Personally, I love the range of possibilities, and mostly, the freshness of products that are in season. There's something for everyone: from vegetable gardens to community gardens, and even organic food baskets. No need to tell you that this summer, variety is synonymous with healthy! Here are some details about my favourites during this beautiful time of the year:
1. Refreshing smoothie
Perfect for a breakfast on the go! Simply add your favourite fruits into a mixer, along with Greek yogurt, almond or soy milk, a few ice cubes, and even a dash of wheat germ or oat flakes if you want. Enjoy each mouthful.
2. Berries
It's time to enjoy largely available local products bursting with colours and flavours: strawberries, raspberries, blueberries, blackberries, and cherries. Why not even try blue honeysuckle berries, this small elongated fruit which is similar to blueberries, and just as rich in antioxidants?
3. Ice milk
Among other local products, the old-fashioned milk of Laiterie de Coaticook is available in 3 flavours sold in1 L containers: maple, strawberry, and vanilla. Regardless of which one you prefer, these products barely contain 90 calories per 125 ml serving. Enough to treat yourself without guilt!
4. Salads
Whether you prefer aragula, corn salad, or watercress, add a lot of vegetables to your salad, and serve it with a light dressing. As a side dish, it will add fibre and a light touch to your meal. For more information on dressings, refer to the following articles: "The Right Dressing for Your Plate," and "Healthy Vinaigrette Ideas for Your Salads."
5. Sparkling Water
For a change from lime- or lemon-flavoured carbonated water, I suggest you try Nestlé Pure Life's raspberry-lime canned sparkling water. This product contains no added sugar. An interesting choice to stay hydrated in a different… and delicious way!
6. Grills
Whether it is a chicken skewer or a steak, barbecue-grilled meat is an interesting option because it doesn't require fat for cooking. Why not try a marinated tofu steak?
7. Melons
Thirst-quenching, versatile, and rich in vitamins, there's a whole range of choice: cantaloupe, watermelon, Santa Claus melon, Canary melon. Pick your own choice, and add it to any recipe you want!
8. Homemade lemonade
I enjoy preparing my own lemonade by squeezing two lemons, a few limes, and a large orange in water (enough to fill a pitcher), and adding one tablespoon of fresh grated ginger and a drizzle of maple syrup. I like to add ice cubes to which I added berries before freezing. It's fun and delicious!
And you, what are your favourite foods during the summer?
By Valérie Noël, P.Dt., Nutritionist