5 tips for barbecue season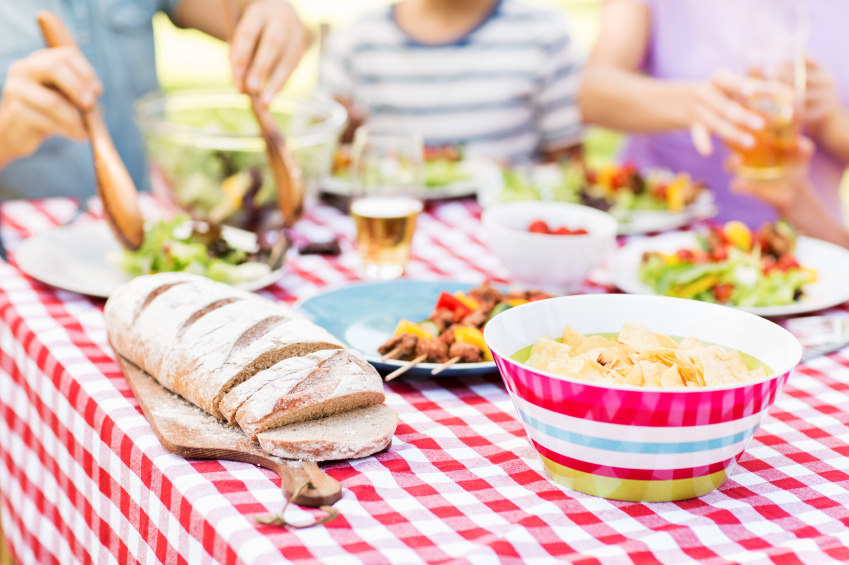 During the summer, barbecue is the way to go in Quebec. Substitute the unhealthy burgers and chips that can damage your weight loss and overall health by using these simple and flavourful tricks
Finger foods
Fresh vegetables are always a good option.  Since most commercial dipping sauces are high in fat and salt, create your own light versions of guacamole, salsa, hummus, blue cheese dip, ranch dip and ultra low fat herb dip.  A fun and refreshing way to eat vegetables is by making cold soups such as tomato or cucumber gaspachos. You can also make healthy chips by baking kale leaves with a little bit of olive oil and salt or grilling whole wheat tortillas.
Hamburgers
Forget the traditional cheeseburger. Go for flavour and creativity and keep your calories in line. Instead of the traditional vegetables, try grilled vegetables (eggplants, bell pepper, onion), spinach, red cabbage, cucumber and bean sprouts. Here are some suggestions to lower the amount of saturated fat, salt, and calories while increasing the amount of fibre, vitamins and minerals.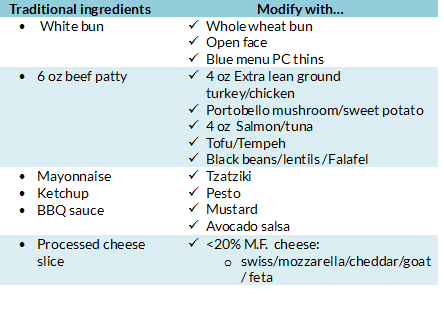 Meat and alternatives
Lower your intake of red meat to a minimum or aim for "loin /round cuts" or "lean/extra lean ground meat". Chicken or turkey breast are great alternatives, as well as shrimp and scallop kebab, inexpensive grilled tofu and high omega 3 fish (salmon, trout, herring).
Cancer prevention
Lower your exposure to carcinogenic compounds associated to BBQ. Avoid flare-ups by reducing the portion sizes and cooking temperature, frequently rotating the meat with tongs, choosing lean cuts, trimming the fat on the meat, cleaning the grill, removing burnt portion and precooking the meat. Marinating the meat can also reduce the production of cancer causing compounds by 80-90%1.
Desserts
Reduce your traditional dessert caloric intake by substituting with the following:
Grilled: peaches, bananas, nectarines, apples and pineapple
1 cup of smoothie
Yogurt popsicles
175 g 0% frozen Greek yogurt.
1 cup frozen grapes, blueberries, banana
Do you have any original barbecue recipes you would like to share?
By Alyssa Fontaine, nutritionist
Reference:
(1) Pen Nutrition. 2008. Eating guideline for cancer prevention : meat , nitrates and barbequing. Online. <http://www.pennutrition.com/viewhandout.aspx?Portal=UbY=&id=JMfqWAU=&PreviewHandout=bA== >