2 yoga poses to discover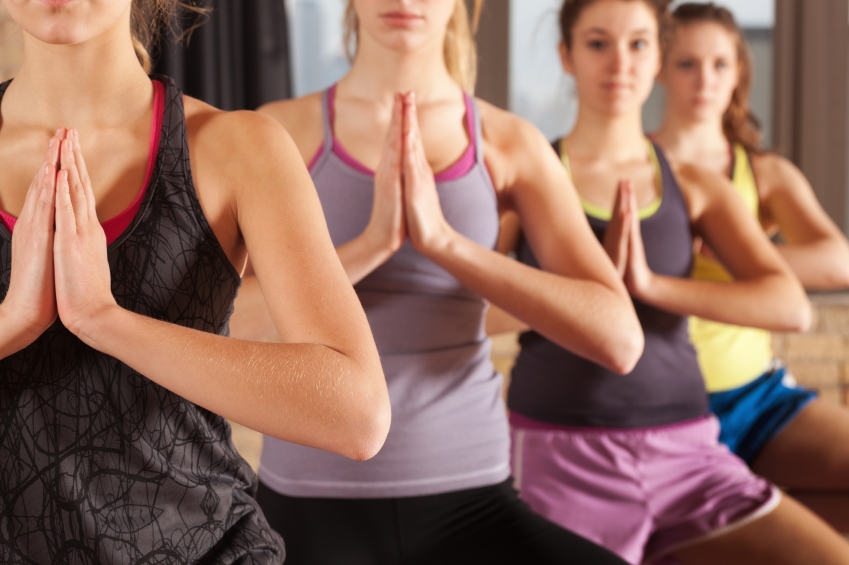 After presenting you the Sun Salutation in a previous article, here are two yoga poses, or asanas, as they are called, that will help you develop your balance and alignment while improving your flexibility. Whether you choose to perform the Triangle or Tree pose after a few Sun Salutations, or simply on their own, these two poses will provide you with a feeling of well-being by allowing you to release stress and concentrate on your breathing.
Triangle: This pose initiates the process of strengthening the legs while opening your hips. This pose is renowned for improving digestion and relieving constipation*. Your legs will have significant work to do in order to open your hips, so you will need to contract your thighs voluntarily.
A: Position your feet about 1 to 1 ½ meters away from each other. Point your right foot toward the right side, and your left foot toward the front. Swing your hip to the left in order to feel a slight stretch inside your thigh. Keep your knees slightly flexed.
B: Bend your torso forward by sliding your hand on your front leg. Your torso should tend to be parallel to the ground. Keep your hips open and keep your eyes on your hand still on top. Hold the position for 6 deep breaths, and then repeat on the other side.
Be careful not to lock your knees. To avoid this, slightly bend your knees when taking the position to put the stress on your muscles, and not your ligaments.
Tree: This pose is a very good way to initiate you to balance exercises while strengthening the stabilizing muscles of the thigh, calf, and ankle. The trick to keep your balance is to focus on a point right in front of you or on the ground for the whole duration of the pose.
A: Put your hands on your chest at shoulder's height. Make sure to contract your arms muscles, and then transfer your weight on the supporting leg (left) by moving your right foot away.
B: To optimize your balance, focus on a point far away, lift your right foot and position the sole against the inside of your left leg. Depending on your level of balance, your foot could be positioned lower or higher against your leg. Try to keep your hips open and facing the wall in front of you.
C: If you feel that your balance is good enough, bring your hands over your head and keep your arms straight and near your ears. Try to hold the pose for at least 6 full breaths, and then repeat on the other side.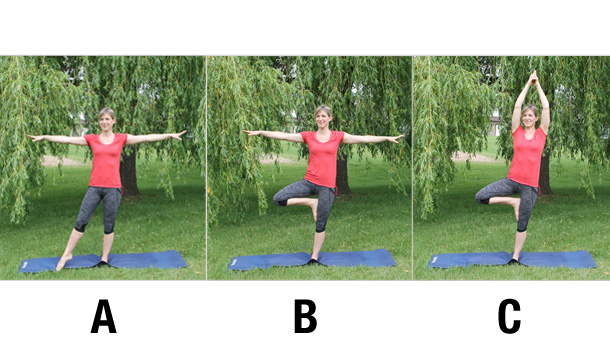 By Karine Larose
*Source : Scoot, John, (2000), "Ashtanga Yoga : The Definitive Step-by-step Guide to Dynamic Yoga", Gaia Books limited, Three Rivers Press, New York, 143 pages.